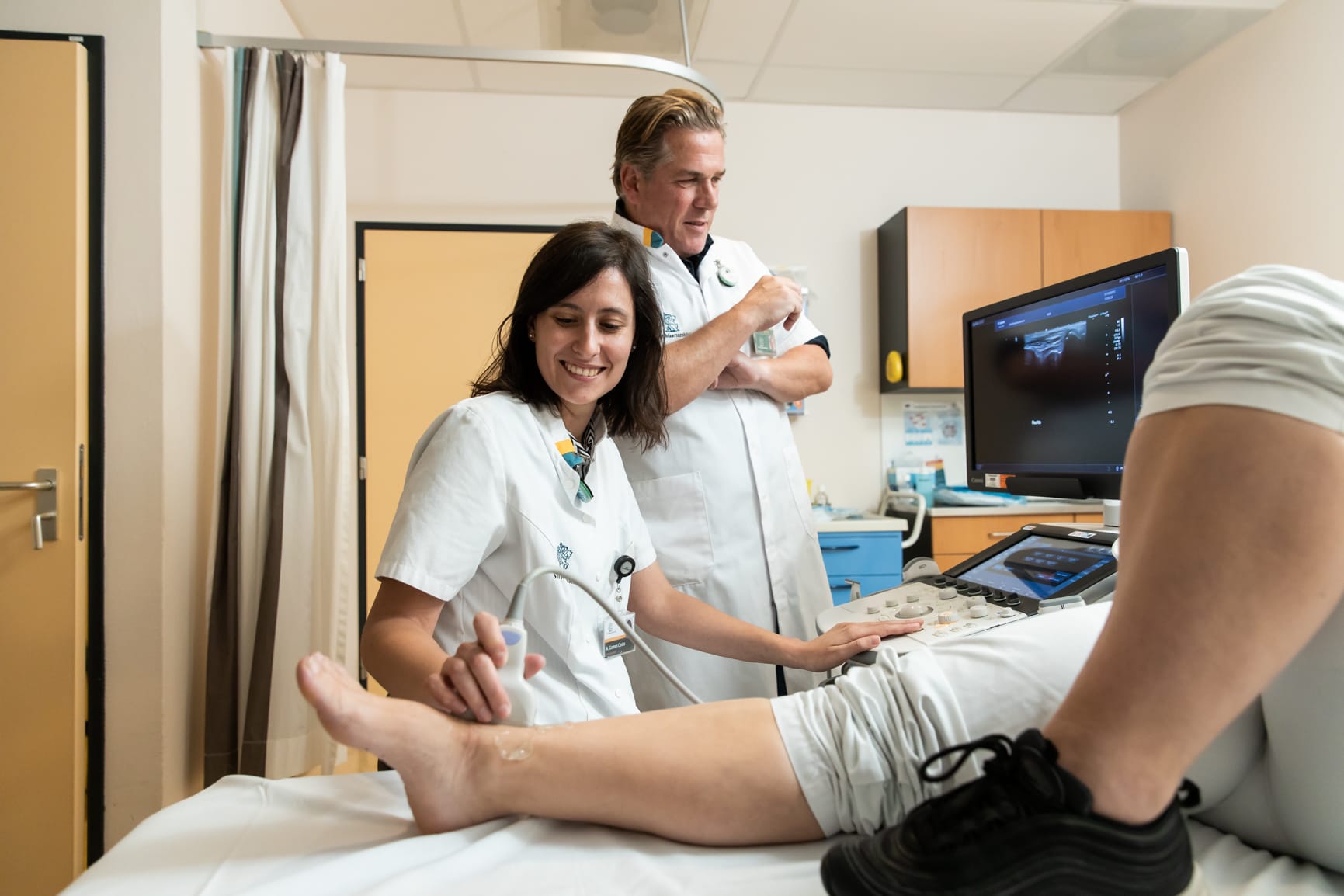 Fellowship at our Radiology department
As the premier practitioner in the field of posture and movement, we do everything we can to give our patients back their freedom of movement. Through our continuous research, we have accumulated expert knowledge. We are only too happy to pass on this knowledge to others.
Ana Sofia explains.
We are a training center and enjoy sharing our knowledge with others. This is not limited to the Netherlands, foreign specialists are also very welcome to expand their knowledge at our institution and take it back to their own workplace!
Fellowship at out Radiology department
Our Department of Radiology regularly receives 'Fellows from abroad', international specialists who continue their specialization here. Every few months there a new fellow arrives. Last year Ana Sofia from Portugal did her fellowship here at the Sint Maartenskliniek. She tells us what it is like to do a fellowship in our radiology department!
Why did you choose de Sint Maartenskliniek for your fellowship?
Ana Sofia: "In Portugal, when we get to the final year of Radiology Residency, we have to choose two subspecialities of our interest and are encouraged to do specialized internships. I chose Abdominal and Gastrointestinal Radiology and Musculoskeletal Radiology. For Musculoskeletal Radiology, I tried to find a specialized center that offered me the opportunity to do diagnostic imaging, which would include ultrasound, CT, MRI and radiographs, and also interventional procedures. Finding everything in one place was impossible in Portugal, so I searched for a place in other European countries. I found the Sint Maartenskliniek both from ESOR (European School of Radiology) and through other Portuguese radiology residents who were here before me. The residents I spoke to, were really excited about the Sint Maartenskliniek, and after they told me about their experience, so was I because I found out that I could actually report the examinations and perform the procedures myself. In most internships abroad, you only get tot observe while the specialist does everything.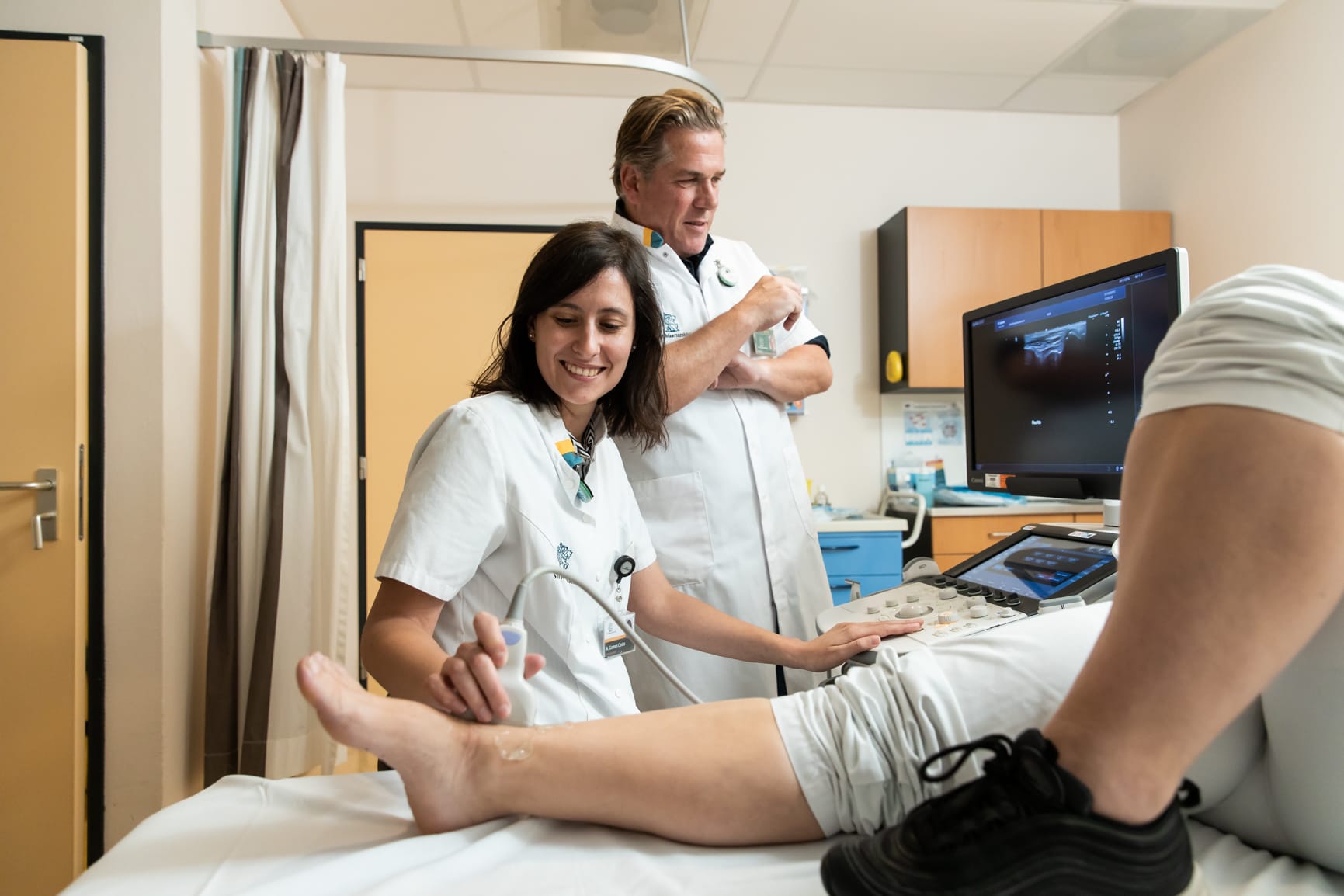 Ana Sofia: "If i would only observe, I would not be challenged to do the report an do my own interpretation of the images. To do the interventions on my own is pretty much impossible in other places; cause I would only be observing. So that was a big thing for me, I could do X-Rays, Ultrasounds, CT's MRI's, I could learn interventional procedures that I really liked that part of radiology, I think it is not complete unless you have that interventional part, in my opinion.If I could only observe, I would not be able to make my own image interpretation and face the challenges of reporting. To be able to perform the interventions on my own is pretty much impossible in other places; because, again, I would only be observing. So that was a really big thing for me. Bottom line, I could report X-Rays, Ultrasounds, CTs and MRIs, and I could learn interventional procedures (which is a part of radiology that I really like, and I think our education is not complete unless you have that also)."
Did your experiences met the expectations you had?
Ana Sofia: "It actually overcame my expectations. I already knew I could do the procedures myself, but I wasn't sure how the department really worked. So everything from the daily briefing at 8.30 am to the "holy hour" after lunch, which we use to discuss the cases as a team, was more than I expected. For example, two colleagues (fellows) of the department gave a presentation to the orthopaedics, in dutch, of course, during my internship, but they also lectured me the same presentation in English so I could also have the opportunity to learn and to be educated. They all got together and put real effort into teaching me in every possible way. Having my own private station to work is absolutely incredible. I am not used to that in Portugal, so that was pretty amazing. And even the opportunity to do the interventions guided by all the techniques was a surprise. I knew there were interventions, but I wasn't aware that I could do them CT-guided, fluoroscopy-guided and ultrasound-guided."
"The other big thing, was the social part"
Ana Sofia: "The technicians are amazing. They helped me a lot. Especially in ultrasound, when patients didn't speak English, they helped me with the translations. But also, outside of work, they took me to places and invited me to events. I even stayed with a medical colleague, Simone Boks, and her family during the weekend. That was really an amazing and unforgettable experience. I felt very welcomed here.
They even added me to their WhatsApp group. They always included me when they were ordering pizza for lunch, and they were always offering me cake. They are really very inclusive. Also, the vrijmibo*, which I did mostly with Martin, Steven and Simone, was such a nice moment of the week. I really felt very welcomed by everyone here. It really exceeded all my expectations! Socially and professionally."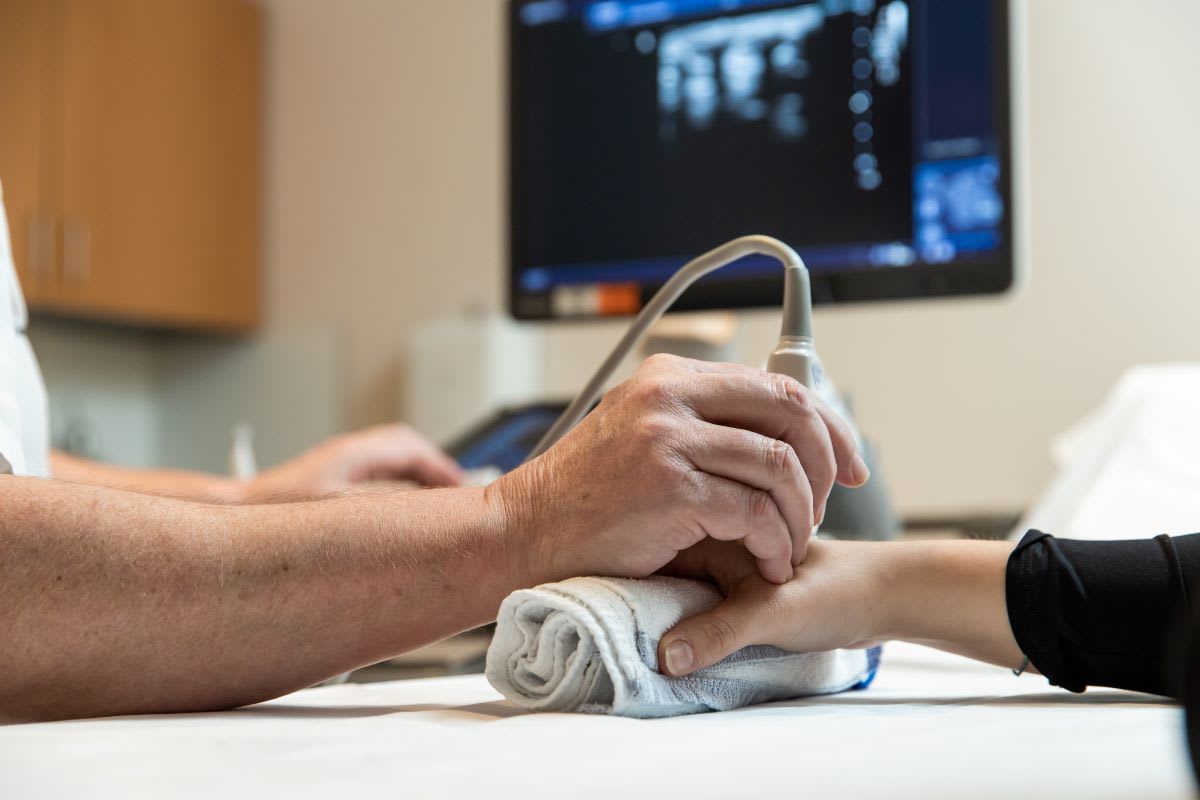 What did you learn?
Ana Sofia: "In the public hospitals in Portugal, there are not enough radiologists in the departments, so we don't report radiographs, and the clinicians that request them must know how to read them. They can always call us when they have doubts, of course, but it is hard to report when you don't have experience interpreting the radiographs. You can study the subject, of course, but it is not the same thing as actually doing the reports yourself all the time. And, here, I really got the opportunity to learn a lot about X-ray and a lot of things I didn't know before.
What are you taking home?
Ana Sofia: A lot! Everything that I learned, actually. And a lot of souvenirs also ;). I actually didn't mention it before, but there is another very important part, which is the arthrograms for the MRIs. This type of procedure and this type of MRI is not very common in Portugal, especially in public hospitals. So it's a special thing the Sint Maartenskliniek does here, in my perspective. I think I saw one or two in Portugal, but here we do them every day! So it was a new technique for me, which will be a big plus for me when I return home. Actually, the majority of musculoskeletal radiologists in Portugal don't perform the procedure. And so they are not also used to interpret the images. What I learned here with the radiographs and the CTs is something I will also take with me to the emergency department back home because I get a lot of calls from the Orthopaedics. So there are a lot of musculoskeletal exams being requested, but because the department cannot respond to all the demands, most musculoskeletal examinations are done outside of the hospital, which is why I didn't have a lot of training in this area before. Before this internship, I wasn't able to discuss indications to perform different scans, and I didn't know what I was supposed to see or where to look. But now I feel confident that when I come back, and they call me to the emergency department, I'll be able to see and discuss with them what is the best option. No one in my department (I have a very small department) knows how to discuss cases with Orthopaedics right now.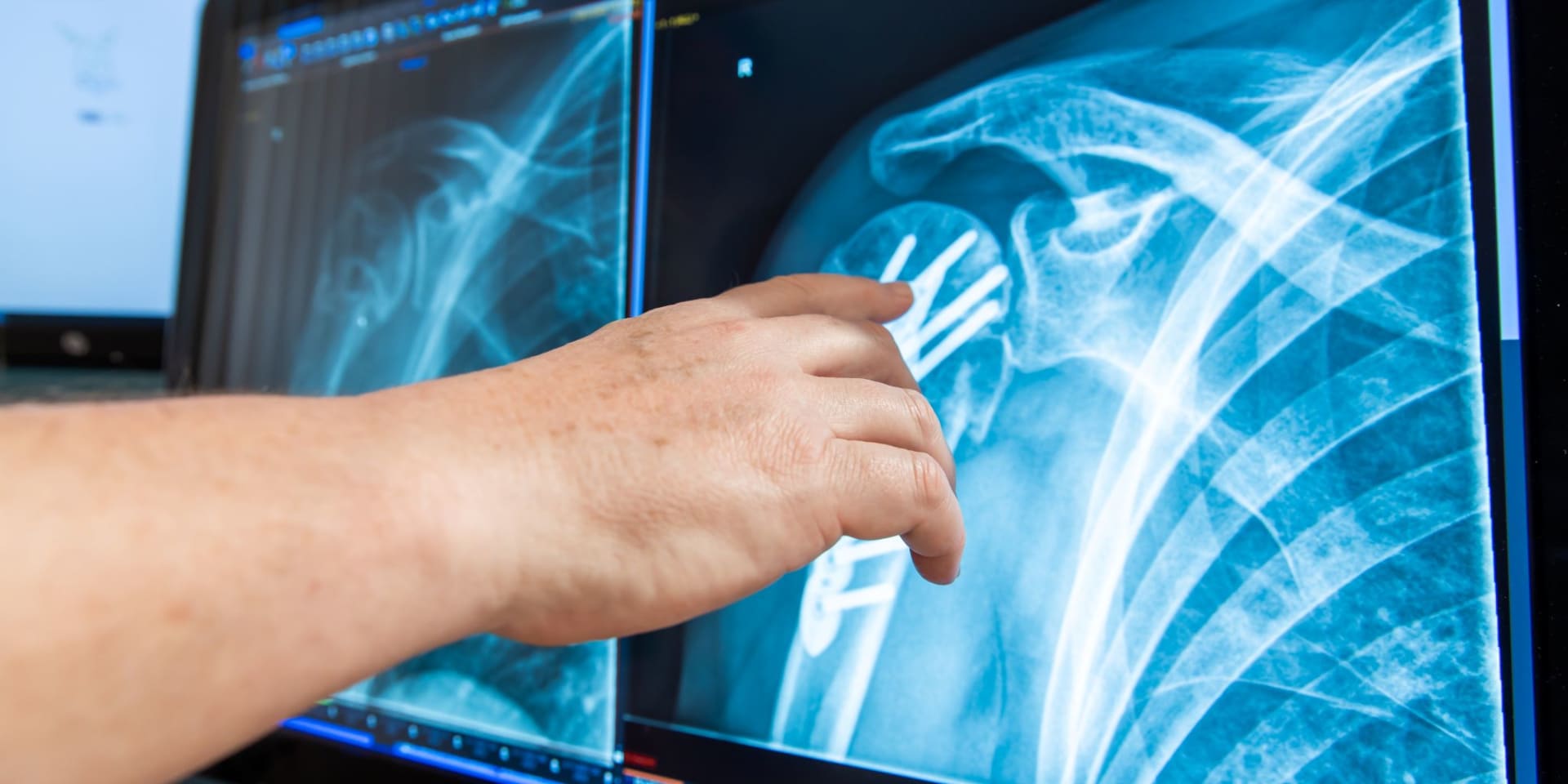 About Radiology
A radiologist plays a very important role in the diagnosis and treatment of a patient. Taking scans and X-rays are important parts of the job. But the very act of interpreting these scans and then giving advice is what makes their jobs so important. Because that allows us to see whether a patient has a certain condition, or not.
About the fellowship
Curious about a fellowhsip at the Sint Maartenskliniek? Check out the positions and find the perfect fellowship for you.