Fellowship op onze Radiologie afdeling
Als dé behandelaar op het gebied van houding en beweging doen wij er alles aan om onze patiënten hun bewegingsvrijheid terug te geven. Door onderzoek te doen hebben we gespecialiseerde kennis én deze kennis brengen we maar al te graag over op anderen.
Ana Sofia vertelt.
Wij zijn een opleidingscentrum en delen onze kennis graag met anderen. Dit beperken we niet tot Nederland, ook buitenlandse specialitsten zijn bij ons meer dan welkom om hun kennis uit te breiden en dit mee terug te nemen naar hun eigen werkplek!
Fellowship op onze Radiologie afdeling
Onze afdeling Radiologie ontvangt regelmatig 'Fellows from abroad', specialisten uit het buitenland die zich hier verder specialiseren in het vak. Iedere paar maanden is er een nieuwe fellow. Afgelopen jaar heeft Ana Sofia uit Portugal haar fellowship hier bij de Sint Maartenskliniek gevolgd. Zij vertelt hoe het is om op onze radiologie afdeling een fellowship te doen!
Why did you choose de Sint Maartenskliniek for your fellowship?
Ana Sofia: " In Portugal when we get to the final year, we have to choose two subspecialities of Radiology. To do a specialized internship*. I chose Abdominal and Gastrointestinal radiology and Musculoskeletal radiology. For Musculoskeletal radiology i tried to find a specialized center to do an internship that offered me the opportunity to do diagnostic imaging, which would include ultrasound and also interventional procedures, this was not possible in Portugal. So, I searched for places in Europe, outside of Portugal, and i knew Sint Maartenskliniek both from Easor (the European School of Radiology) and also through other Portugal residents who were here before me. The other residents were realy excited about the Maartenskliniek and so was I, because there is one big difference: which is I can actually report and do the procedures myself; most of the internships that you get abroad, you are only observing, while the specialist does everything.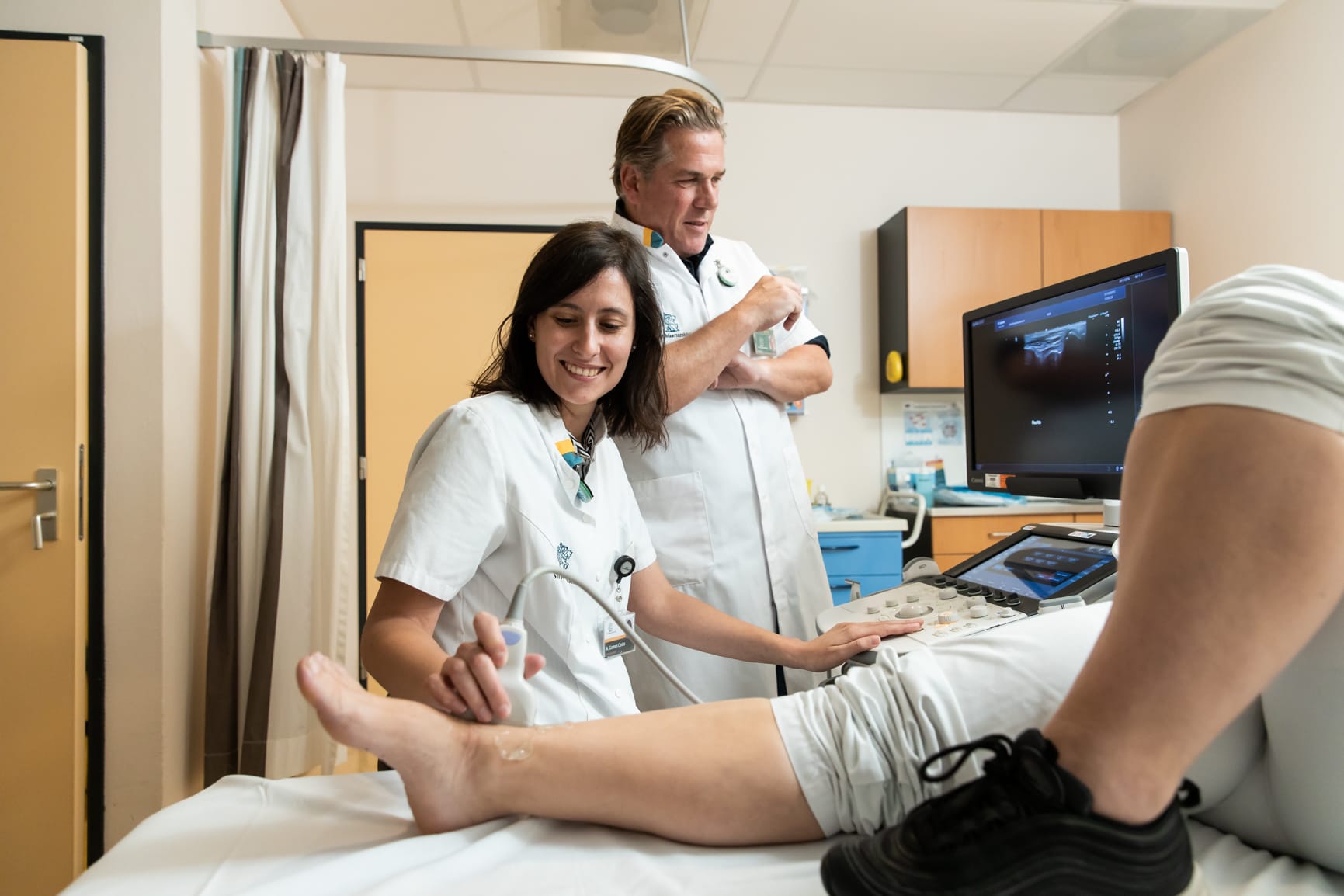 Ana Sofia: "If i would only observe, i would not be challenged to do the report an do my own interpretation of the images. To do the interventions on my own is pretty much impossible in other places; cause I would only be observing. So that was a big thing for me, I could do X-Rays, Ultrasounds, CT's MRI's, I could learn interventional procedures that I really liked that part of radiology, I think it is not complete unless you have that interventional part, in my opinion."
Did your experiences met the expectations you had?
Ana Sofia: "It actually overcomes my expectations. I already knew I was able to do the procedures myself, but I wasn't sure how the department realy worked. So everything from the daily briefing at 8.30 am, to the hour after lunch, which we use to discuss the cases as a team, were more than I expected. For example: two collegeaus of the department gave a presentation to the orthopedics, in dutch ofcourse, but they also gave me a copy in English so I could also have the opportunity to learn and to be educated on those moments. They all got together and put effort to educate me in every possible way. Having my own station to work is absolutely incredible, I am not used to that in Portugal. I never had a spot only for me, so that was pretty amazing.  And also the opportunity to do the intervention of all of the techniques. I knew there were interventions, but I wasn't aware that I could do it CT guided, fluoroscopy guided and ultrasound guided.
"The other big thing, was the social part"
Ana Sofia: " The technicians are amazing, they helped me a lot. Especially with ultrasound, when patients didn't speak English they helped me doing the translation. But also outside of work they took me to places. I even stayed with a colleague and her famil during the weekend. That was really amazing. I felt very welcome here.
They added me to their whatsapp group, they always included me when they were ordering pizza fort lunch or stuff like that. They are always like, there is cake! Do you want cake?! They are very inclusive. And also the vrijmibo* I do with Martin and Steven is so nice, so I felt very welcome by everyone here. It really exceeded al my expectations! Socially and professionally.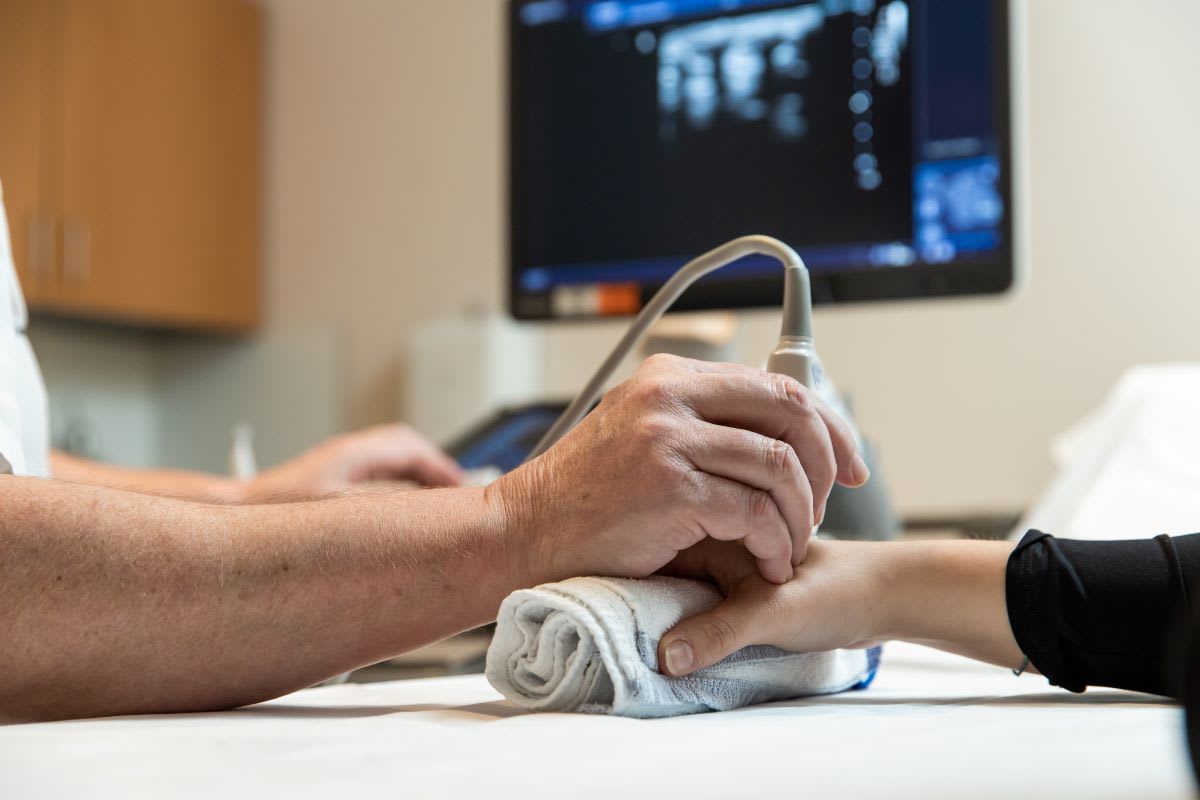 What did you learn?
Ana Sofia: "In the public hospitals in Portugal, there are not enough people, so we do the procedure but don't report to the patient about what we see on the radiograph. The clinicians* need to know how to read them. They can call us when they have doubts, but when you don't have experience in reading the radiographs, it is hard to report it. You can study it ofcourse, but it is not the same thing as actually doing the reports yourself all the time. And here I really got the opportunity to learn a lot about X-ray, things I didn't knew before.
What are you taking home?
Ana Sofia: " A lot! Everything that I learned actually. And a lot of souvenirs also ;). I actually didn't mention it before, but there is another very important part, which is the aortograms* for the MRI. This type of procedure and this type of MRI is really rare in Portugal. So it's a special thing the Maartenskliniek does here. i think in Porutgal I saw one, but here we do it everyday! So it was completely a new technic for me, so that is big plus for me when I come home. Because most Musculoskeletal don't know how to preform the procedure. And also they are not used to interpret the images. What I learned here with the radiographs and the ct's is something i will also take with me to the emergency department back home, cause I get a lot of calls of the orthopedics, but in my hospital I don't have a specialized Musculoskeletal Radiologist, those exams are usually reported outside of the department, so I didn't learn this before. So I wasn't able to discuss the scans. I didn't know what I was supose to see on the scans, or where to look and what should I do. But now I feel when I come back, and they call me to the emergency department I'll be able to see and discuss with them what the best option is. Do you realy need a CT or what do you want to see? No one in my department (I have a very small department) but no one there knows how to discuss anything with the orthopedics right now.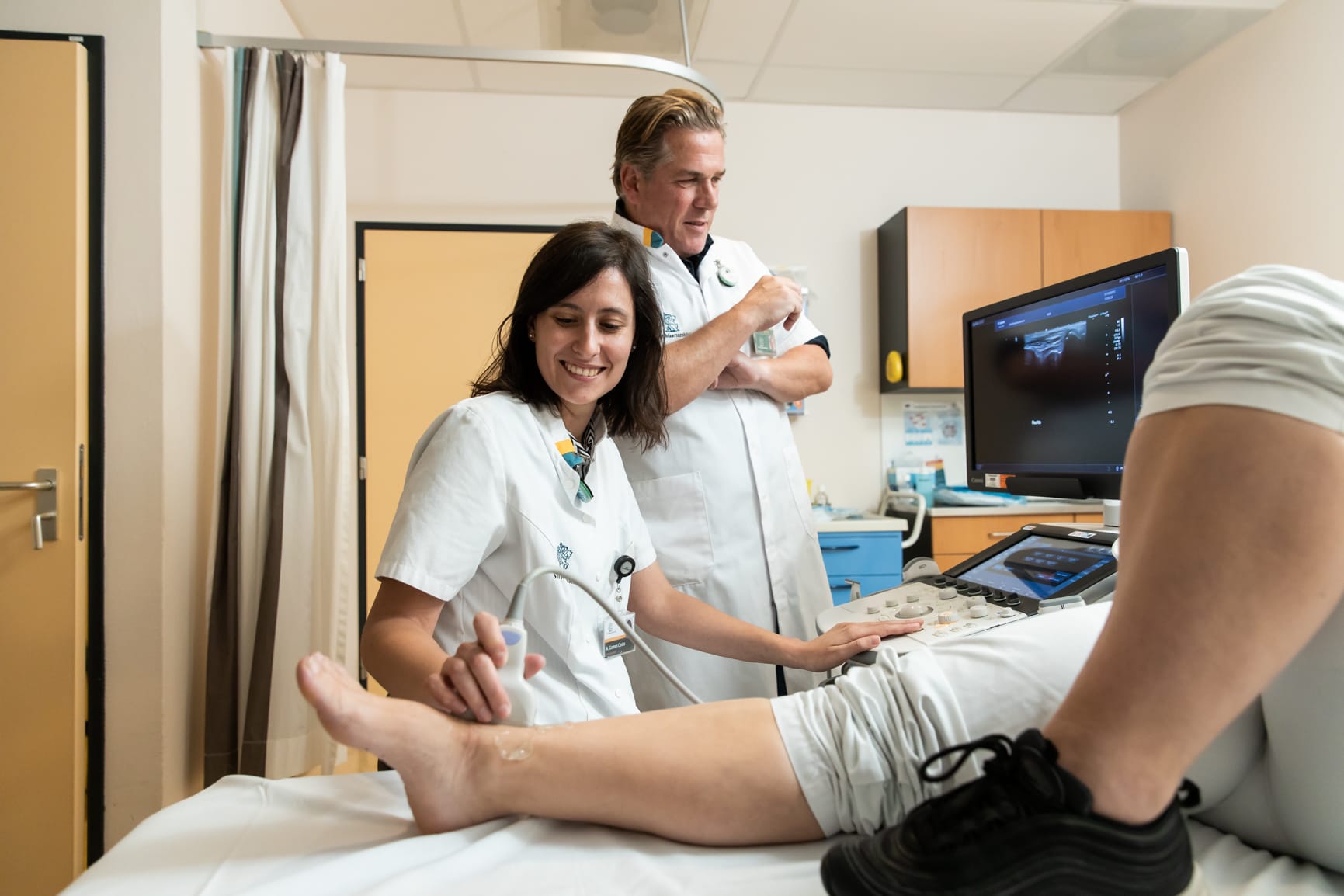 Over Radiologie
Een radioloog speelt een enorm belangrijke rol in de diagnose en behandeling van een patiënt. Het maken van scans en röntgenfoto's zijn een belangrijk onderdeel van het werk. Maar juist het interperteren van deze scans en vervolgens advies uitbrengen is wat het werk zo belangrijk maakt. Zo kan er namelijk gekeken worden of een patiënt een bepaalde aandoening wel of niet heeft.
About the fellowship
Curious about a fellowhsip at the Sint Maartenskliniek? Check out the positions and find the perfect fellowship for you.